Salmon Coconut Curry (Whole 30)
Prep Time: 15 minutes | Cook time: 20 minutes | Serves 3-4
This Whole30-friendly curry is hearty, flavorful, and incorporates one of my favorite proteins – salmon! It is inspired by a recent meal kit from Plated. My husband and I usually get a meal box subscription once a week and it just makes dinner so easy. It also provides great recipe inspiration for when you're in the kitchen yourself. This is definitely one of those recipes to keep and make your own!
Salmon Coconut Curry Ingredients:
1 lb salmon*
1 bag Heinen's organic riced cauliflower*
1 small sweet onion, sliced thin*
1 heaping handful baby carrots, cut in half lengthwise*
1 bag spinach, roughly chopped*
2 sprigs cilantro, leaves picked; chopped
1/4″ knob ginger, peeled and grated
2 cloves garlic, minced
1 can coconut milk
1 TBS Vindaloo curry paste
1/4 TSP cumin
1/4 TSP turmeric
3 TSP EVOO
S&P to taste
*Ingredients on sale at Heinen's week of 10/31/18-11/6/18
Directions:
Preheat oven to 425. Line a baking sheet with tin foil.
Toss prepared carrots in 1 TSP EVOO, S&P. Spread out over 1/2 of sheet tray.
Mix cumin and turmeric. Pat salmon dry and season with S&P. Sprinkle spice mixture evenly over salmon. Drizzle 1/2 TSP of EVOO over salmon then rub spices into salmon to evenly coat. Add salmon, skin side down, to sheet tray.
Roast in oven for 12-14minutes or until carrots are tender and salmon is cooked through.
While that is roasting, heat 1 TSP EVOO in large saucepan over medium high heat. Add onion, garlic, and cilantro stems and saute until soft, about 5 minutes.
Add curry paste and season with S&P and saute until fragrant, about 2 minutes.
Take carrots and salmon out of oven.
Add coconut milk, carrots and spinach to saucepan and bring to a simmer to reduce for 3-4 minutes.
While simmering, cook cauliflower rice. Heat 1/2 TSP EVOO in pan over medium heat. Add ginger and stir for 30 seconds to release aromatics. Add in riced cauliflower. season with S&P. Sauté 2-3 minutes or until desired doneness.
Take curry of heat. Flake salmon and stir into curry. Season to taste with S&P.
Serve curry over cauliflower rice and garnish with cilantro leaves. Enjoy!
amzn_assoc_placement = "adunit0"; amzn_assoc_search_bar = "true"; amzn_assoc_tracking_id = "cleeastsidemoms-20"; amzn_assoc_search_bar_position = "bottom"; amzn_assoc_ad_mode = "search"; amzn_assoc_ad_type = "smart"; amzn_assoc_marketplace = "amazon"; amzn_assoc_region = "US"; amzn_assoc_title = "Shop Related Products"; amzn_assoc_default_search_phrase = "kitchen must-haves"; amzn_assoc_default_category = "All"; amzn_assoc_linkid = "18f0369ef57dedf957e9bb494d35e001";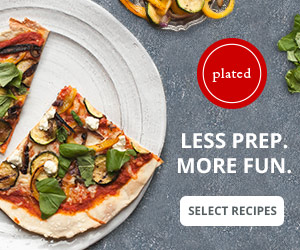 My Green Mattress: Big Black Friday Savings and Even Bigger Health Benefits!
Shop local this holiday season with our fabulous Cleveland Holiday Gift Guide!
[social_warfare]My kids love watching the Food Network.  In fact, we watch as a family, it's one of our favorite things to stream together!!  Their favorite shows are Chopped and Cutthroat Kitchen.  My husband and I find it hysterical that they love these shows...