Holiday Hunt Sneak Peek #2
Our first Holiday Scavenger Hunt at the Van Aken District is right around the corner! Last week we gave you a little sneak peek of some of the stores that are participating as well as the awesome prizes they are contributing. And if you thought that was great, we aren't done yet! Below, there is a whole new list of participants. Read on to learn more about these awesome shops and the prizes you could win if you come out and join us on December 16th! Grab your tickets here!
Nurtured Foundation offers professional and non- judgmental services to the greater Cleveland and Akron areas.  They offer birth/postpartum doulas, overnight newborn care with newborn care specialists, placenta encapsulation, in home lactation support, in home massage and sleep training.  Their services are customized to meet each families needs and philosophies.
Who doesn't love a good gift basket? There are going to be several up for grabs from the Nurtured Foundation if you can collect all the clues!
Your Milk Shoppe is a service-based maternity consulting business that was founded by moms, for moms. It is our mission to provide new moms and mothers-to-be with the necessary tools to feel prepared when welcoming their newest addition. Whether it's help with baby planning, finding a nanny, or childproofing the home, we are here to hold your hand in this next chapter. We also partner with corporations to support a moms return to work when it's time, advocating for a successful transition on both sides of her maternity leave. We truly strive to be the Milk that keeps Moms alive… because Moms need Milk, too!
Your chance to win your very own gift card to check out some of these services along with a few other goodies is coming up on December 16th!
Remember our meet-a-mom post from yesterday?  Yeah, we thought so.
Lindsey's contribution to the prizes is a little festive something to bring a little color to your holidays, as well as a half-price design session.  That saves you $100, which is a super bargain because she's worth the full price.
Little Explorations
Little Explorations is an inspiration springboard for facilitating thought-provoking activities for young children. From eBooks to Instagram posts, Little Explorations helps guide moms, dads, teachers, nannies and caregivers set up meaningful experiences for children to explore freely. After years of teaching preschool, Courtney McKeegan created Little Explorations as her creative consulting side hustle. Little Explorations has curated some inspiring materials to accompany Little Explorations for Big Imaginations eBook so you can jump right in!
Want to win some craft books & supplies of your very own? You can! But only if you participate in our holiday hunt in the Van Aken District:)
CLE Clothing Co. was founded in 2008 by two lifelong friends. One, a graphic designer, had always dreamed of starting a t-shirt company. The other, an entrepreneur, was looking for a fun new opportunity. Over 98% of their products are Made in the USA and printed right here in Cleveland. They celebrated their 10 year anniversary this year and now have 6 locations with The West Side Market and Van Aken being the newest. "Spreading Cleveland pride, one t-shirt at a time!"
Want to win some of your own Cleveland pride? We thought so. We'll see you at the scavenger hunt on the 16th!
Double Rainbow is lifestyle and clothing boutique for girls ages 0-16. Inspired by her spirited daughters, favorite shops in Paris, NY + LA, and her love of all things chic and effortless, Meg (the owner) hopes to fill her shop with treasures, and moments to treasure as well.
In addition to clothes, there are so many sweet toys to choose from. Which one will you win?
Andrews Colour Atelier is a workshop where artisans come together to enhance natural beauty through the art of hair cutting, and hair coloring; especially balayage.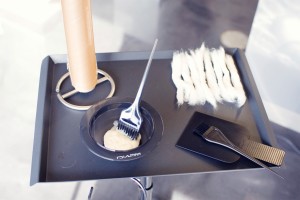 Want an awesome, life-changing hairbrush from these trade craftsmen who know hair better than anyone?  Come hunt with us.
Have you RSVPd yet?  You can do so using our event link – make sure you let us know you're coming (or interested!) so we have enough supplies on hand!  That hot choclate won't make itself, you know.
Can't wait to see you all on December 16th!
other around town features
Find the perfect Christmas Tree this Holiday Season and make memories that last a lifetime!
Community Baby Show helping over 30,000 families scheduled for November 21, 2021
My Green Mattress: Big Black Friday Savings and Even Bigger Health Benefits!